Brian Petroziello's HO Wyoming Division layout models the main line from Wilkes-Barre to Athens, with Coxton Yard as its centerpiece.

The Seneca Valley Lines layout of the Rochester Model Railroad Club is loosely modeling the LV from Jersey City to Buffalo.

Chuck Huthmaker's Lehigh and Susquehanna Division has been located in New York, Saudi Arabia, and north Texas, where it was last reincarnated as a point-to-point layout in an 11'6″x11'6″ room.

Ian Metcalfe's Beaver Meadow layout, in England, is based on the Lehigh Valley Railroad in the Hazelton area during the 1970's.

Jim Dalberg's New Jersey Northern is an operations-oriented layout based on the LV & CNJ from Oak Island to just west of Coxton Yard, with staging for the Buffalo Division.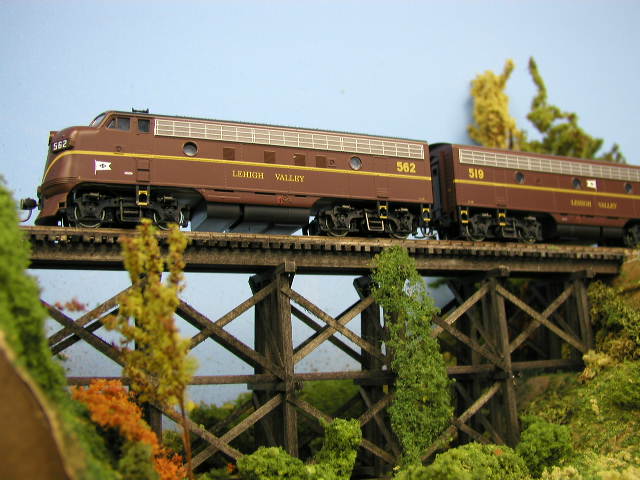 New York Division – Mark Nolan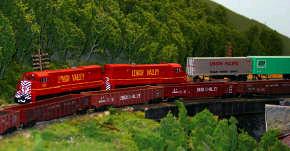 Ralph DeBlasi's LVRR Wyoming Division models the LV and CNJ from Northampton to Solomon's Gap in the period between 1960 and 1976.

Glen Larimer's Lehigh Lackawanna is a modern railroad depicting the Lehigh Valley and Erie Lackawanna railroads merged into one company to avoid Conrail.

Reinhard Pratt's LVRR Central Jersey Mainline layout is set in the – 1960's to pre-Conrail, running the trains he viewed as a boy in New Jersey.

Phil Lord is recreating a prototype area at New Woodstock, NY (Madison County) on the Cortland Branch as it was in 1945.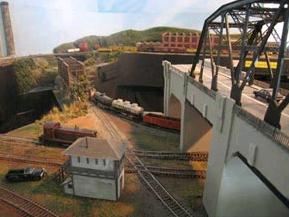 Jules Heiliczer's Bethlehem Steel Layout models the Philadelphia Bethlehem & New England and the Lehigh Valley railroads and their operations around Bethlehem, PA between 1965 and 1975.

The Lehigh Valley Buffalo Division – John Brahaney

John Brahaney's new layout, The Lehigh and Erie , includes trackage from other railroads but still has a strong Valley presence.

Lehigh Valley Railroad Wyoming Division – Chuck Davis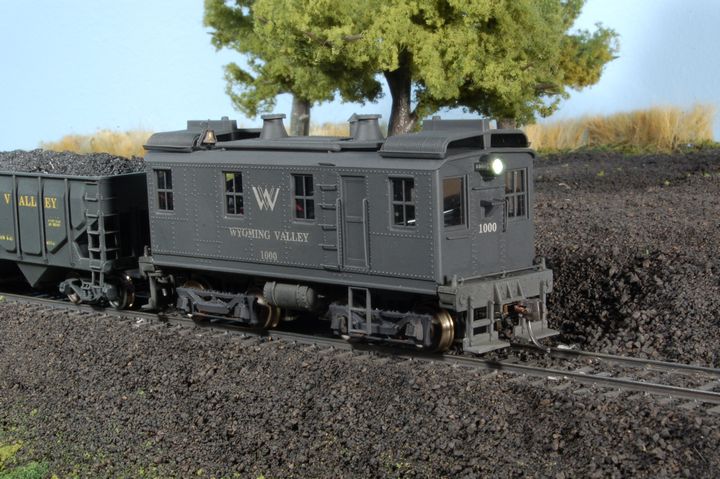 Wyoming Valley Railroad – Chuck Diljak
Email at: nj_jerryd at yahoo dot com

Mike Rose's layout features a section of former Lehigh Valley Railroad lines in Conrail days, including Mehoopany, Meshoppen, Laceyville, and parts of Towanda.

The HO gauge Lehigh & Keystone Valley depicts the route of the Lehigh Valley Railroad during the period 1950-76, from West Portal, NJ, to Bethlehem, PA, and north to Coxton, PA. Layout also features routes of the Reading and CNJ.

Ron Papiercavich's LVRR Wyoming Division captures the feel of the Main Line region in Pennsylvania between Coxton and Lehighton.

The HO scale layout of the Back Mountain Railroad Club focuses on a section of the Bowman's Creek Branch of the Lehigh Valley Railroad as it passes through Dallas, PA, on its way to Harvey's Lake.

Walter Chamberlain's Lehigh Valley Railroad, set in the mid-1950s, features mainline trackage from the NY border into the Wyoming Valley,  includes both Sayre and Coxton Yards and the Bowman's Creek Branch as well.
Ed Schaller's Lehigh Valley Railroad New York Division, circa 1972-76
Easton – Phillipsburg Bridges – John Pursell
New York, Vermont & Northern Rwy – Bernd Fanghanel's HO layout is a freelanced model railroad that is based on the LV's Rochester and Hemlock branch with Rochester Jct. being the focal point.
Lehigh Valley Layouts in the Model Railroad Magazines
Lehigh Valley & Reading Lines – Doug & Steve Kley's HO layout has three levels and fills a 16 x 36 ft room. The Lehigh Valley portion models the area from Easton to Laurel Run on the Gracedale Secondary Track, and to Solomons Gap on the L&S main line. (Railmodel Journal, 12/1990, p. 6)
"…Just an update… For simplicity we use the CNJ tracks from Easton to JU. The LV lead from JU to Bethlehem is only used by Reading trains going to Saucon Yard which is the Eastern end of the Reading RR. Both Reading and LV trains operate out of Allentown Yard. The LV uses the old CNJ tracks (now LV as its 1974) to reach Lehighton, then follow the trackage as you identified. We operate in the time zone of Sept/Oct 1974. We were at Sept/Oct 1972 but shifted upwards when Atlas produced the U-23B's. I ll keep this short by ending with – we have been operating for 16 years.
Thanks again for the press. – Doug Kley"
Calypso Yard – Phil Baggley's HO layout is loosely based on Lehigh Valley operations at Calypso Yard and Bethlehem Steel (Railmodel Journal, 3/1997, p. 33).
"…I sold Calypso Yard to the Falkirk model railway club in Scotland and hear that it is still in use on the exhibition circuit up there, though they use it more as a generic layout to run all manner of club member's stock. I am currently working on a modest home layout more closely based on Bethlehem Steel in my 13ft x 15ft railway room up on the top floor. It is still a long way from completion – I keep getting sidetracked to other modeling projects!
Kind regards and best wishes for the web site." – Phil
Lehigh Valley Railroad – Bill McChesney's HO layout has Allentown Yard as its centerpiece, with staging yards representing Oak Island, Sayre, and Tifft Teminal/Suspension Bridge. It fills a 16 x 31 ft room. (Railroad Model Craftsman, 3/1998, p. 52)
Other layouts inspired by the Lehigh Valley
These layouts incorporate elements of LVRR operations or locations, but do not run LVRR trains.
Schuylkill Haven and Lehigh River Railroad – Jim Hamilton's 3′ x 5' N scale SH&LR is a fictitious road that follows the old ROW of LVRR Pottsville Branch (Bowmans to Blackwood) and People's Railway (to Pottsville), set in the mid-1960s. Modeled towns include Bowmans (Lizard Creek Jct), Orwigsburg, and Pottsville. Operations include local and interchange freight, passenger railfan excursions. Jim started construction in November 2000 and is already 100% operational, with about 30% of the scenery done.
---
If you are modeling the Lehigh Valley railroad, send us a note – we'd be glad to include info about your layout, too!