Longtime member Bobb Losse, Sr. has consistently contributed his excellent passenger car drawings to the ARHS Facebook page. Recently he featured information and photos on the unique all-postal cars, and he graciously agreed to share it here:
As part of their 1912 program to upgrade the passenger car fleet to 'all-steel' cars, the LV purchased three 60' all-postal cars with three axle trucks. They were numbered 1010-1012 and were built by Standard Steel Car. Since the previous postal cars came with two axle trucks, it is assumed these cars were meant for service between Buffalo and New York City. They were 'all-postal cars' with a mail storage section but no provision for baggage. Several other railroads purchased similar cars, with the New Haven coming to mind.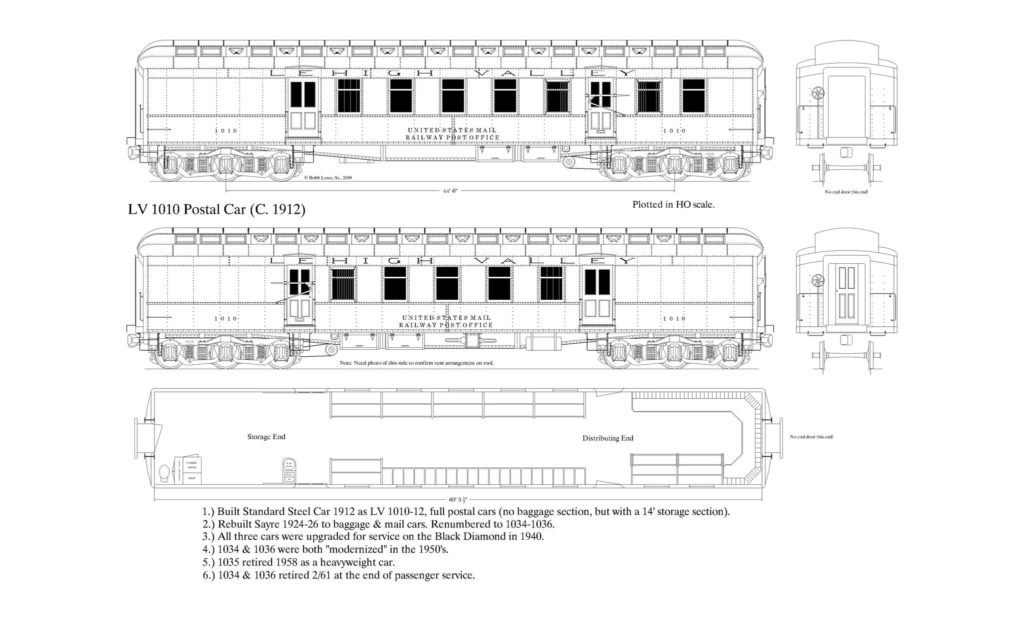 In the 1924-25 timeframe, the railroad rebuilt all three cars to what most railfans refer to as "RPOs", which are baggage and mail cars. The LV referred to them as "B&M" in their documents. With the rebuild came new car numbers, 1034-1036. During the introduction of the new Black Diamond in 1940, all three cars received some upgrades for the new service. But the most notable changes occurred with the "modernization" program in the early 1950s. Cars 1034 and 1036 both received this treatment. Car 1035 was retired in 1958 as a heavyweight car. Cars 1034 and 1036 were retired in 1961 with the end of passenger service.