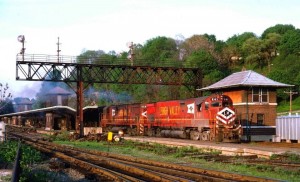 Photo by Ed Painter
The Lehigh Valley Railroad – The Perfect Prototype?
Large enough to be a Class 1 road, and have an interesting variety of equipment and operations. Small enough that a significant portion of the roster can be modeled. A single main line snaking through mountainous terrain, with numerous short but active branch lines. Throughout much of its history, many small yards, rather than few very large yards.
Sound like a description of some of the great model railroads you've visited, or seen in the pages of model railroad magazines? You might think I'm talking about Allen McClelland's HO scale fictitious Virginian & Ohio, but what I'm describing is the real-life Lehigh Valley Railroad.
Photos of trains battling the grade through the Lehigh Gorge, passing under bridges or paralleling tracks carrying the rival Central Railroad of New Jersey, look like they could have been photographed on a model railroad layout. The staging yards must be hidden behind those steep, high hills covered with trees and occasional rock outcroppings!